The reopening of our school is critical for the educational experience of our students and is also a necessity for working parents who may face difficulties in providing online support during the working day at home. Welcoming the return of our students during this global pandemic requires planning, communication, and cooperation with our students, staff, parents and community.
This COVID-19 Reopening Plan aims to provide clear guidance for returning to school and aligns with the regulations and recommendations provided by the California Department of Public Health and San Diego County. The areas and topics addressed in this plan are implemented in our daily routine, classrooms, and activities, for the priority of keeping our students and staff safe.
In face of the ever-changing conditions of the pandemic, this reopening plan will remain fluid and may be updated in reference to the recommendation of our local health organizations. We will be prepared to act in accordance to the safety guidelines provided, should it be required.
In-Class/Online Options
During this time, we understand it is necessary to provide families with options for attaining academic needs. For this, we will be providing options of in-class instruction and online zoom participation. Families may choose to either return to school for in-class instruction or participate in the classroom via Zoom. We will be utilizing online tools such as Zoom and Schoology to provide materials for those who choose distance learning.
Strategic Reopening
Topics
Face coverings
Frequent hand washing and sanitation
Social/physical distancing
Movement
Meal time modification
Limiting Visitors
Classroom modification
Health and wellness

Arrival procedures screening of student and staff
Dismissal procedures
Health screening during school

Sanitation and disinfection
Staff training
Communication
Testing of students and staff
Triggers for switching to distance learning
Face Coverings
All students, staff, and visitors will be required to wear face coverings at all times. Removal of face covering/masks will be allowed during meals and snacks.
All students must arrive with facials covering on and must also bring an extra facial covering to replace when soiled or lost.
Exemption will only be applicable for medical issues and note from a physician.Frequent Hand Washing and Sanitation
Frequent hand washing will be implemented in daily routines.
Students and staff will be required to wash hands with soap and water upon arrival,before and after meals/snacks, between activities or during transitions, before and afteruse of tools or commonly used materials.
Hand sanitizers and wipes will also be available in multiple areas of the classroom andaccessible with supervision of staff.
Sinks and toilet (seats and handles) will be sanitized after each use and monitored byteacher/staff at all times.Social/Physical DistancingIndividual desks will used in the classroom and will be placed 6 feet apart to maintain physical distancing. Teachers will be demonstrating and discussing how to maintain distance between peers with frequent reminders through out the day. Floors will also be marked with labels to encourage students to maintain distance with one another while walking or waiting in line.Outside classroom space and inside classroom space will be available to minimize the number of students in once area. All desks and chairs will be sanitized after each use and during transition of schedules.MovementTo limit COVID-19 exposure student's movements will be controlled through out the day. Transitions between activities and movement will be staggered to avoid congestion in certain areas. For example, groups will be staggered to use hand washing stations before and after meals.Meal Time Modification
All students will be given a designated table or area to have meals during lunch and snacks. Lunch will be packed and brought from home. Students will be required to wash hands before and after meal times.
Limiting Visitors
Visitors will be limited to only essential visits. Parents and other visitors will not be enter the facility unless request has been submitted in advance with valid reason. All essential visitors will be required to wear facial coverings, sanitize and wash hands upon arrival, and be screened for symptoms, including a temperature check.
Classroom Modification
To minimize the chance of COVID-19 exposure, we will have indoor and outdoor learning environments available. Students will be divided into small groups to avoid exposure, maintain physical distancing, and maximize ventilation between each student and staff.
Health and Wellness
Students and staff will be required to adjusts to the following protocols as a health and safety measurement.
a) Arrival Procedures
All students and staff will be required to wear face coverings. Students will be dropped off at the main entrance gate. Only students and staff will be allowed to enter the gate. All staff and children must have temperatures checked at the entrance and show no signs of COVID-19 symptoms (listed below). After a temperature check, all staff and students will be required to sanitize hands upon arrival and wash hands once inside the facility.
b) Dismissal Procedures
Students will be dismissed and will exit the same gate used for entrance. Parents will have to wait in the designated area, with face coverings, while students are dismissed and pass through the gate. We will have students pass through the gate one student at a time. All families will be required to leave as soon as their children are dismissed from school.
c) Health Screening During School Hours
Visual symptom checks will be conducted during school hours. Students or staff who show symptoms will be separated from the group and the classroom used will be off limits until thoroughly disinfected. Parents will be notified and will be required to pick up their child immediately.Symptoms include; fever, cough, shortness of breath, difficulty breathing, chills, repeated shaking with chills, fatigue, muscle pain, headache, sore throat, congestion or runny nose, vomiting, nausea, diarrhea, new loss of smell or taste.
d) Student or Staff Measures

When COVID-19 Symptoms are seen: send home, recommend testing, schoolremains open.
When in close contact with confirmed COVID-19 Case: send home, quarantinefor 14 days from last exposure, recommend testing, school will remain open.
When COVID-10 infection is confirmed: Notify health officials, identify possiblyexposed and quarantine for 14 days after last exposure, recommend testing, school closure depending on case.
d. Negative test after symptoms: May return to school 10 days after symptoms resolve, and at least 72 hours fever free.
Sanitation and Disinfection
Desks, chairs, sinks, and materials used will be disinfected frequently. Students will be required to sanitize or wash hands during and between activities on a frequent basis. All classrooms will be cleaned disinfected at the end of each school day. This will include frequently touched surfaces, such as; doors knobs, shelves, and handles.
Staff Training
All staff will be trained to use appropriate protective gear, screening methods, sanitation and disinfecting procedures to ensure the safety of the students and other staff. The staff will also be trained to give frequent reminders for physical distancing between students. All protocols in this COVID-19 Reopening Plan will be required by staff and teachers.
Communication
Reopening of school requires cooperation and communication with students, parents, teachers, and staff. Email notification and phone calls will be made to all students when necessary. Especially during urgent updates are necessary (e.g. exposure of students to positive cases.
When employee or student tests positive for COVID-19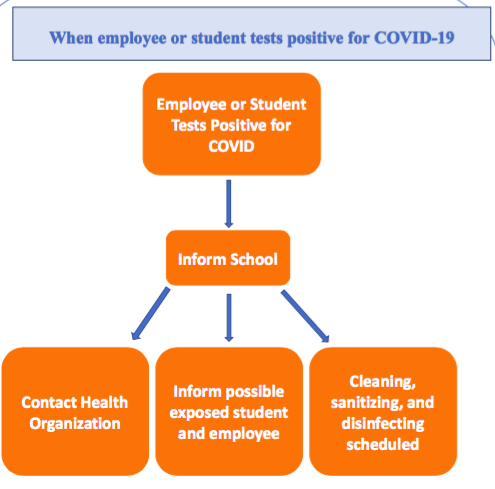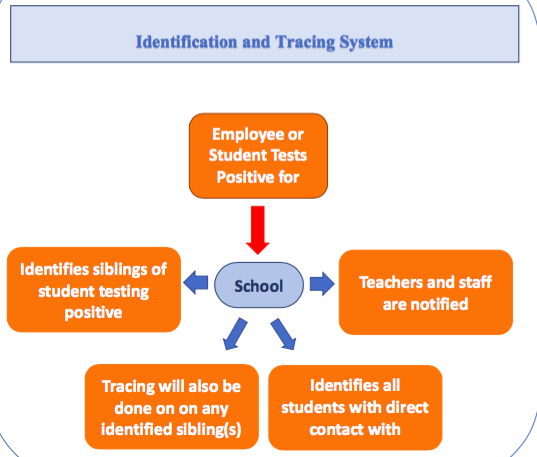 Testing of Student and Staff
Students will be recommended and may be asked to test for COVID-19 if symptoms are seen or if close contact and exposure has be identified. Staff will also be tested on a frequent basis, in align with the recommendations by the local and state health organizations.
All staff and parents will be required to notify the school of any results if testing procedures have been taken.
Triggers for Switching to Distance Learning
Closure of school and full transitions to distance/online learning will be decided based on guidance and guidelines from the State, County and Health organizations. The school may also make a decision to close if protocols are difficult to manage for in person instruction or if safety and health concerns are identified due to exposure or potential exposure of the communicable disease.